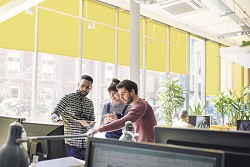 NiceS.p.A
., leading international player in the home and building automation sector,
presents a complete, advanced and versatile system for automating and controlling interior blinds
.
Nice lets you control natural light easily, adapting it to the specific situations and needs
for comfort in every setting (residential, commercial, hotel and public spaces), improving the energy efficiency of the building
.
Nice automation systems provide a smart way to manage the light and temperature in a building, reducing the use
of artificial light during the day, avoiding heat loss during the winter and protecting from direct sunlight in the summer, with a consequent reduction in energy consumption.
Nice offers an innovative systemthatadapts to all lifestyles:
-
Low noise performance
with the electronically controlled
Soft Start
and
Soft Stop
functions of the motorand minimum vibrations during manoeuvres;
-
Perfect alignment
in all load conditions and in systems with more than one motor,including with different sizes of blind, awning and roller;
-
Smart safety
with obstacle detection during raising and lowering;
-
Ease of installation and use
with buttons for precise limit position adjustment
and diagnostic LEDs located on the motor head;
-
Attention to design and customisation
with a vast choice of
control solutions
,
including touchless
and the My Nice World app
for user-friendly control of automationsat a distance.
The Group
has invested substantially in offering top quality standards in the name of safety, quality, reliability
and a long working life, confirming its role as the
preferred partner of architects, designers and interior designers throughout the world, offering complete support in implementing the most prestigious projects.
Nice S.p.A.
Founded in the early 1990s and listed on the STAR Segment of the Italian Stock Exchange Borsa Italiana, Nice S.p.A. is the reference international group in the home and building automation sector. The company offers an extensive range of integrated systems for automating gates, garage doors, parking systems, wireless alarms and solar screen systems, for residential, commercial and industrial applications. The Nice Group has embarked on a series of strategic initiatives, including: international expansion and consolidation
in markets with high growth potential; expansion, completion and integration of the product ranges in the various business units; branding actions to compete on new markets. Nice products –a distinctive blend of technological innovation and design –are exported to over 100 countries worldwide, with 85% of the Group's consolidated revenues being generated overseas.

www.thenicegroup.com