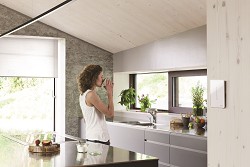 Thanks to Nice, returning home to a warm welcome is now easier than ever.
MyNice solutions
are the result of an ongoing dialogue with the world of architecture and design, with the aim
of offering the highest standards of
performance, security and reliability
,allowing integration with other building management systems.
Nice S.p.A.
, leading international name in the Home and Building Automation field,
is one of the first pioneering companies in their industryto obtain the Apple HomeKit certification. With the smart interface IT4WIFI,
Nice is now fully integrated with the world of Apple HomeKit, offering full control of garage door automation.
Thanks to this interface, which connects to the HomeKit technology,
you can control your garage door directly
from your iPhone or Apple Watch. It works locally or even remotely
, when you are away from home, through Apple's Home app or Nice's MyNice Welcome HKapp for HomeKit.
You can use Apple's Home app to control all connected HomeKit devices. You can even create
custom scenarios
, such as "Back home" to open the garage door and switch on the lights, with one simple touch from your iPhone
or Apple Watch.
Siri lets you use voice commands to open and close your garage door
. And by setting the GPS on your iPhone,
the
geolocalization function can open the garage door automatically as you approach
the house
, at whatever distance you wish to specify, securely and without making you wait.
In addition to the interface,
Nice also offers the MyNice Welcome app
, developed for
Android
and
iOS
,
to remotely control gate and garage door automations
fromsmartphones and smartwatches.
The app lets you create
scheduled actions
for predetermined times and days and even establish rules
to perform specific actions when certain events occur (e.g. "If the gate is open, send me an email")
thanks to full compatibility with the IFTTT service("If This Then That").
To see the full list of Nice automation systemscompatible with Apple HomeKit
, go to:
www.niceforyou.com/en/it4wifi
.
Nice S.p.A.
Established in the early 1990s and listed in the STAR Segment of the Italian Stock Exchange, Nice S.p.A. is international reference Group
in the Home and Building Automation industry, with a comprehensive offering of integrated automation systems for gates, garage doors, parking systems, wireless alarm systems and solar screens, for residential, commercial and industrial applications. The Nice Group is pursuing a strategy
of expanding geographically and strengthening its position in high-growth potential markets; broadening, completing and integrating the product lines
of the various business units; implementing branding actions to compete in new market segments. Nice exports its products, which combine technological innovation and design, to over 100 countries, generating more than 85% of the Group's consolidated revenues abroad.

www.thenicegroup.com